Chef Vikram Khatri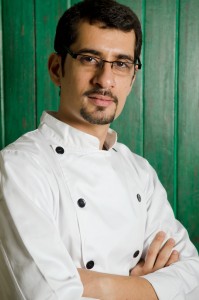 After completing hotel management from Bangalore in 1999 chef Vikram Khatri joined the Japanese restaurant Sakura at the Metropolitan Hotel, New Delhi. He worked there for 7 years, and learnt the craft and nuances of Japanese cuisine from renowned Japanese chefs.
In June 2007 he joined the Olive group, as a part of the core opening team at ai. In between in November 2007 he went to Sydney and worked at the Ocean Room, the finest modern Japanese restaurant of Australia and ever since has been holding fort at ai and then Guppy.  
Chef Vikram is fiercely devoted to freshness, hygiene and technique. His offerings at Guppy are inspired by Japan with bold striking flavours. You could taste the spicy, the tangy, and the exotic all in one bite.
Chef VK (as he's known) and his talented young team has brought home many awards and accolades to the restaurant which include the best Japanese restaurant, best sushi chef, top 100 dishes of Delhi and international chef of the year for two consecutive years including one at the 7th International Chef's Award in 2010. 
He opened Guppy by ai in August 2013 to critical acclaim and packed houses and since has been a force to reckon, with an endearing personality and a charming demeanour.