Chef Vivek Saggar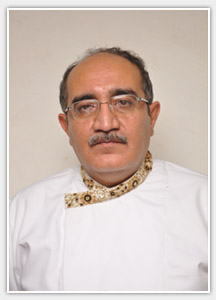 Chef Saggar in an embroidered Katchef jacket which was exclusively designed for the ICF Awards Function in November 2011.
Chef Vivek Saggar's passion for creativity in the culinary space has resulted in his contribution in the field of food education, nutrition guidance and culinary refinement for over two decades. He set up Food Art in 1988, which specializes in providing professional and technical support to hotels, clubs, restaurants, resorts etc.
Since its inception, Food Art has handled varied assignments with emphasis on education, planning, diversification, streamlining and upgrading kitchen operations and catering services. Apart from teaching culinary skills to over 15,000 individuals, Food Art has conducted innumerous training courses of culinary art to staff of the following organizations.
BPL Sanyo
National
Hawkins
Span Resorts, Manali
Radico Khaitan Guest House, Asiad Village, New Delhi
Hot Breads, Noida
GAIL
L. G. Electronics (Microwave Division staff)
Whirlpool
Delhi Art Gallery
Jindal Group
Ahuja Radio
Assam Regiment, Indian Armed Forces
Battle Honours Mess, S.P. Marg, New Delhi
Pratishtha Guest House, Gurgaon
Corporate Residency, Safdarjung Enclave, New Delhi
Coast Guard Officers Mess, Noida
Notable Achievements
Jury of Master Chef India season 1 & 2.
Conducted India's largest Paella festival to promote food & wines in association with the Spanish Embassy.
Worked as food editor with Miditech, a production house, for producing a recipe database of over 800 dishes.
Conducted food demonstrations for EAT (European art of taste) a campaign financed with aid from European Union & Italy to promote Italian food & wine in India.
Organised Professional cookery competition for Chefs at the International Chef's Day Chef Awards eight years in a row.
Help in organizing & conducting Culinary Art India in association with Indian Culinary Forum every year
Developed Indian dishes & organized Sausage fair for Sri Lanka based company Keels & Crest.