Chef Sabyasachi (Saby) Gorai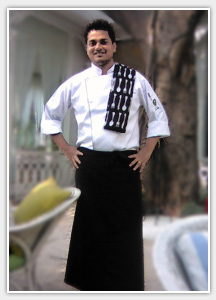 What is similar between an artist and a chef?
Ask Sabyasachi (Saby) Gorai who comes from a family of artists. Saby, born and raised in Asansol (West Bengal – India) has graduated in Arts and Management.
For him, cooking is an art, the ultimate form of expression. He loves to work with colours and create something natural, unique and exotic. But in the case of this artist you can eat his product. From Ambanis to Bachchans to the Doshis and Kapoors he gives his guests a cuisine they agree with and enjoy too! Inspired from Chicago's Charlie Trotters and Sydney's Tetsuya, Chef Saby's unique 7 course 'Tasting Menu' at Olive (Delhi) offered world cuisine enough to let your taste buds ask for more.
Rated as one of the top 10 chefs of India, Saby has trained extensively and underwent specialized Master Chef courses in India, Australia, America, Middle East, Hong Kong and Singapore. A long hard road to the top, beginning with Hotel Guestline (Mumbai) winding through Mahindra Holiday Resorts all over India, Bowling Co and Sports Bistro-High Street Phoenix, Karma, Bellissima and Liquid Lounge specialty restaurants, Olive bar and kitchen to its current destination at ai & the love hotel (Saket, New Delhi) + Olive bar and kitchen (Mehrauli).
Apart from cooking, Saby also teaches young chefs who have won various awards and accolades at the Great Indian Culinary Challenge, Nestle Star Chef etc. This includes active association with local hotel management colleges inspiring young students and presenting insights to the modern culinary world and its practices.
His mouth watering recipes have been regularly featured in the gourmet section of leading newspapers like Times of India, Mid Day, Hindustan Times, Indian Express, Afternoon, India today Plus, Salaam Mumbai and magazines including Femina, Marie Claire, Elle, Express Hotelier Caterer, Jet Airways Inflight Cuisine cover etc.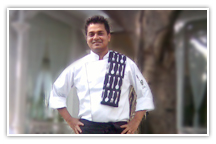 Reputed food critics like Rashmi Uday Singh, Siddharth Kak, Meher Moos, late Sabina Saikia have also given rave reviews about his delicacies.
An idol for young aspirants, Chef Saby constantly strives to explore the infinite world of gastronomic delights with his honest love for cooking, a passion turned in to profession.
Seen here is Chef Saby with a KatChef TM. Ceremonial performance chef coat which has moisture management properties to give comfort to the chef while cooking and has ultra whiteness properties.