Chef Rakesh Talwar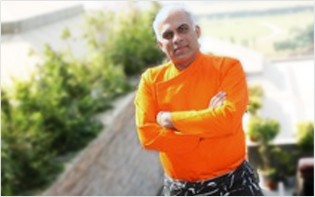 My journey into the culinary world started at the age of eight, in my aunts kitchen which had a wood fired cooking range and the vegetables and fruits never came from the market, one just had to step into the backyard and plan the meal for the day.  How much better than that can life get… this is where my first product of perfectly made golden brown gulab jamuns was produced and the standards were set for me becoming a chef.
My first stint out of college took me to San Francisco, an opportunity to die for, from culinary school straight to the culinary land!! Opening up the floodgates of worldwide cuisines to me. I picked up different ingredients and styles of cooking from my restaurateur friends, yett the one food that always intrigued me was Indian food…our restaurant always had a bee line of people queuing up outside, most from around the world!
I knew it was the Indian food that kept bringing them here. My journey n learning continued with a couple of stints in New York, Singapore and Dubai. All adding insights into the culinary world. Once back in India had the Birla's, Ruia's, Singhania's and the Thackersey's eating out of my hand. Satellite TV was just making a appearence on the scene n I got called to present a food show Shahi Davat, Food from the Royal Houses in India.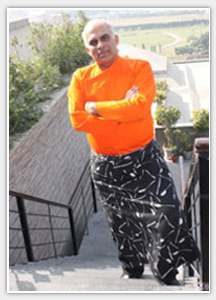 The spiritual aspect of my life meant to keep me going calmly, took me to a very beautiful chapter in my life, The Art of Living Silver Jubilee Celebrations at the ashram in Bangalore where feeding Kings, Queens, Prince's, Princesses and dignitaries (and also my Guruji as I fondly call him) apart from the tens of thousands devotes at any given meal through the day was a cake walk I learnt to master, guess this was the preparation for me to be ready for a 1 or a 1,00,000 people banquet at any time, anywhere.
Like Love, Food is about life, the efforts we put into it the flavor's we add, the different combinations of masalas their vibrant colors, the spices ahh the varieties are endless…
It only shows the best a Chef can get and the extent to where he can take his expertise n talent. The long journey of 30 years have taken me to some of the best restaurants like Khyber, Café Royal, Vie lounge n deck and C'est la Vie to name just a few. The current adventure is where the f's meet (fashion, food n fun) with f bar n lounge handling two outlets and planning for the third to open soon in Mumbai, my dream city, my love city.
Chefs are no longer confined to the walls of the kitchen they are now an integral part of any restaurant and need to be shown off at any given time, chefs have definitely arrived and have carved a niche for them selves in their field. So obviously what they wear not only becomes important but also reflects their personality.
Personally I choose to wear a different color Chef coat everyday, it uplifts the mood but also gives a sense of creativity to the mind, besides adds to the fashion equation. If we chefs can use colors to enhance the plates, then we can use the same to enhance our attire. Having travelled so far, I yet feel. Miles to go before I sleep, for me learning never stops, am presently pursuing my PhD in the hospitality business and my passion with music of being a Disc Jockey where I'm training with India's number 1 DJ.
So, Cheers n like I always say,
KEEP YOUR FEET ON THE GROUND AND KEEP REACHING FOR THE STARS
Love n luck to all.