Chef Manjit Singh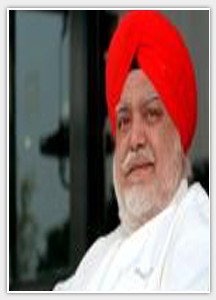 Corporate Executive Chef ITC Welcomgroup
With over three decades of culinary experience behind him, Manjit Gill is a reputed professional in the Hospitality Industry and is held in the highest regard by its top gastronomic echelons. ' Constant innovation' has remained Manjit's mantra which has been the hallmark of his association with the prestigious National and International Hospitality and Culinary Industry.
Experimentation with unique ideas and research on creation of culinary novelties based on our culinary roots in Vedic science has enabled him to open new horizons in the world of food & beverages. In addition to being intensely creative, Manjit is a dynamic leader and a teacher. In his present position he continues to inspire his team and motivate large number of culinary students to perform their best and realize his vision of popularizing Indian Cuisine in the global palate.
Graduated from the Institute of Hotel Management, New Delhi in 1974.
Joined Oberoi School of Hotel Management as Food Production Trainee for three years, graduated in 1977.
Joined ITC Maurya Sheraton in 1977 and took over as Executive Chef ITC Maurya Sheraton in 1981 and successfully operated F&B Production and created the best restaurants of Indian food in the country – BUKHARA the north west frontier tandoori cuisine and DUM PUKHT – a grand cuisine from Avadh . A professional of the highest order and a Chef par excellence, Manjit has numerous feathers in his cap of achievements.
In 2007 highest honor in the Culinary profession awarded to him: " Life time Achievement Award" by the Ministry of Tourism, Government of India on 25th January, 2007.
World Punjabi Organization presented the " Punjabi Gold Award" for his invaluable contribution to Punjabi community on Baisakhi April 14, 2007.
Awarded the prestigious silver Certificate of Excellence in the Sheraton Culinary Olympics held in Boston, USA in 1987.
In his capacity as the President of Indian Federation of Culinary Associations, he was responsible for organizing the India's First National Culinary Art Exhibition and Competition in January 1990.
Under Manjit's leadership as President IFCA, India became the member and was awarded Diploma by the World Association of Chef's Societies in 2003. Now IFCA organizes the biannual Chefs National Congress which is being held over the last seven years.
Created a Charity Concept "Chef & Child" which has become a national event and is organized in various part of the country to generate money for Child welfare.
In 1992 got the opportunity to cook for Prince Charles and Lady Diana at Palace of the Maharaja of Jaipur ( in Jaipur).
Demonstration of Indian food to media and to other food lovers at Le Cordon Bleu, London, England .in 1993.
He is credited to have made India's roadside food while retaining its authenticity to successfully transplant this cuisine in the environs of luxury hotel chain.
Manjit is member of the various professional organizations-
The Cookery & Food Association, Great Britain
Master Craftsman – Craft Guild of Chefs, Great Britain
American Culinary Federation, Chicago, USA
Past President and founder member of Indian Culinary Forum, India
President Indian Federation of Culinary Associations, India
On account of his passion for cookery and development of upcoming chefs, he introduced the Award for the outstanding student of Food Production of National Council of Hotel Management Studies colleges all over India. He is a great believer in Slow Food philosophy and preaches and practices the same in all the ITC Welcomgroup hotels operations.
Manjit is an active member in Navdanya movement, which is an Indian-based non-governmental organization which promotes biodiversity conservation, biodiversity, organic farming, and the rights of farmers.
Recently in January 2011, Manjit successfully led his team from ITC Welcomgroup, to a massive catering of gala Indian cocktail dinner for 2000 people, and heavy Indian snacks on cocktail dinner for 1000 people at, DAVOS, Switzerland, for the World Economic Forum (WEF), organized by "INDIA INCLUSIVE" representing India.
In the month of May 2011, Manjit showcased authentic Indian cuisine for the international press & celebrities at the Luxury Collection Destination India Guide Launch Event at the Liberty of London for Starwood Hotels and Resorts.
Subsequently in the same month, Manjit represented the Indian subcontinent at "The Taste Workshops and Theatre of Taste" which highlighted Indian cuisine coupled with sustainable fishing practices, at Genoa, Italy.
In the month of September 2011, he actively participated in event "World Tour of Chefs against Hunger", organised by South African Chefs Association.
At present Manjit, heads the culinary team at ITC – Welcomgroup, holding the mantle of The Corporate Executive Chef.
In Manjit's own words, " In many respects my philosophy on food and my life are same – both should be an experience of Happiness, Serenity and Joyful living. These principles have developed from a broad range of professional experiences as well as from contact with people of diverse cultures and Lifestyles. "