Chef Manish Malhotra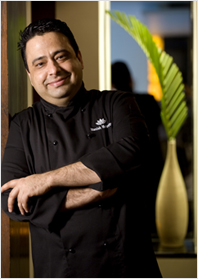 Executive Chef – Pan Asian Cuisine Old World Hospitality Pvt. Ltd.
Chef Manish Mehrotra, a graduate from the Institute of Hotel Management, Catering Technology and Applied Nutrition, Mumbai (1996), joined Thai Pavilion restaurant at Taj President, Mumbai and trained under the expert guidance of master chefs from Thailand. During his tenure of 5 years with the Taj group, Manish organised various Thai Food Festivals at different properties of the group. He also won several medals at various competitions organised by the Culinary Associations of India.
He then joined Old World Hospitality Pvt. Ltd. (O.W.H), where he headed the pan Asian kitchens at Habitat World, India Habitat Centre, New Delhi. With a branch in Noida too, Oriental Octopus is regarded as one of the finest pan Asian restaurants in the city. With O.W.H, Manish has been on various culinary expeditions including training stints at top restaurants in the East.
In 2006, Manish moved with O.W.H to set up Tamarai, London. Within a short span, Tamarai has earned rave reviews from diners and critics for its cuisine 'Best pan Asian in London' (E.S. Magazine) and has also won awards for 'The Best Wine List' and 'The Best Late Night Bar in U.K'. He then brought in his unique inventive vision to creating a path breaking menu at Indian Accent, the fine dining restaurant at The Manor (New Delhi), which has been celebrated by all the critics with the crowning story being 'The Best Modern Indian Restaurant' The Vir Sanghvi Award 2009. Chef Manish was the only Indian Chef to be invited to the World Gourmet Summit in Singapore this year.
What the press says…
"Manish Mehrotra, most promising young chef of India…"
By : Business Standard, New Delhi
"Chef Manish Mehrotra presents Indian food like it hasn't been done before. The food is Indian and every now and then when it seems to pull away from the shore, it still retains its intrinsic accent…."
By : The Financial Express, New Delhi
"Indian cuisine has finally been revamped by Chef Manish Mehrotra at Indian Accent."
By : Travel + Leisure South Asia, New Delhi
Awards
Vir Sanghvi Award, Best Chef Of 2010 –
HT City Crystal Awards .
American Express Best Chef Of The Year, 2010
Gourmet Guru Of India 2011 –
Food & Night Life Magazine
"Chef Manish Mehrotra is the presiding deity of India Habitat Centre's Oriental Octopus, and he has been cooking Thai and Chinese food for close to 10 years now. He is the only Indian national I've met who disproves my pet theory that Indians can't cook authentic oriental food."
By : Business Standard, New Delhi
"There are master chefs… and master chefs in the Asian pantheon specializing in a particular cuisine of the region. But I know of no one chef who transverses the region with such ease, authenticity, panache and skill, as Chef Manish Mehrotra. "
By : The Times Of India, New Delhi