Chef Mamta Bist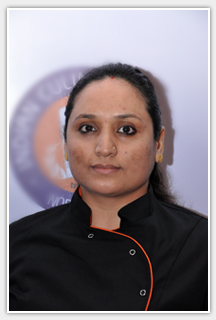 Chef Mamta Bist in Dragon Cut Katchef Jacket
The Lady Chef of the Year- 2011
Mamta Bist is working as Lecturer- Food production at Institute of Hotel Management, Catering and Nutrition, PUSA, New Delhi (INDIA) which has been awarded as The Best Institute of Hotel Management, thrice in a row by Ministry of Tourism, Government of India.
Mamta Bist who is a graduate in Hotel management and post graduate in Tourism Management started her Career as Kitchen Management trainee from Hotel Guestline under the joint venture of Mahindra Group and the French Hotel Group ACCOR ASIA PACIFIC. She became Junior Sous Chef at the young age of 22 years.
To pursue her passion as Trainer and to nurture and guide the budding chefs, she switched over to teaching. An expert in Food Presentation, she trains young chefs in Continental and Indian Cuisine. She has a fine hand in Confectionery and is an excellent Carver. From this varied culinary base her favorite remains the Cuisine of India. She is presently working on the Forgotten Foods of India and wish to showcase the real Cuisine of India to the world who just knows about the Commercial Indian Cuisine.
Mamta Bist won her first Professional Award, a Silver medal at H&FS Culinary Show when she was only two months old in this Profession. Since then she has won many awards at the culinary competitions organized by Indian Culinary Forum. She has written Training manual for International Labour Organization and has also given Live Demonstration on Indian Cuisine at Salone Del Gusto and Terra Madre- Slow Food Conference held in Italy.