Chef Kunal Kapur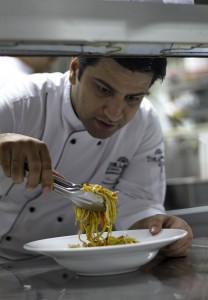 Kunal is one of the most celebrated face of Indian Cuisine today. He is Chef extraordinaire, TV show host, winner of several culinary awards and an author of upcoming cookbooks! He is living his dream of making Indian cuisine the number one cuisine in the world and empowering everyone through power of cooking to become self sufficient.
He has taken a way forward in managing specialty restaurants with his passion and flair for cooking.  Chef Kunal (Executive Sous Chef, Leela Kempinski, Gurgaon) is recognised amongst the Best Chefs in India by National Weekly Magazine – India Today.
Recently he was adjudged as the "Gourmet Guru" by the Food & Nightlife Magazine. He has been honored as one of the Top 20 chefs of India.
He has been a judge cum host along with bollywood actor Akshay kumar, on India's first reality based food show called Masterchef India. It is based on an international format and India is the 13th country to host it. This prestigious show was aired on Star Plus which is the biggest general entertainment channel in India. He has successfully completed two seasons of Masterchef India.
He is a columnist for ECO (Earth Care Optimised) a magazine on environmental awareness and "The Food and Nightlife Magazine." This magazine is India's first food and nightlife journal which holistically covers events, restaurants, clubs, page 3 parties and lifestyle.
He is also the proud chef of "DIYA" the specialty Indian restaurant, which has won the Best Indian restaurant thrice in a row in Gurgaon and rated amongst the top 5 Indian restaurants in Delhi and Delhi NCR. Chef Kunal also looks after the specialty menu for SPECTRA and Banquet operations. His career high was when Mr. Jiggs Kalra, the Czar of Indian Cuisine appointed him as the "Next Big Guy in Kebabs & Curries in India." Vir Sanghvi, the Editorial Director of Hindustan Times referred him as "The real star of Masterchef India."
All the restaurants he has managed so far have been successful to evoke the tastes and memories of divine food. It's an exemplary fact that his last three restaurants (that he managed as the Head chef), have won best restaurant awards in their respective categories. These restaurants are Made in India at Radisson Hotel, Noida, Delhi, Dhaba at the Claridges and Twice at Diya at the Leela Kempinski, Gurgaon, Delhi.
He is the winner of a silver medal at aahar and a bronze medal in HORECA, Kuwait and a degree holder from the Institute of Hotel Management Chandigarh and started his career from the Taj group of hotels. Having spanned his culinary repertoire in Indian cuisine across banquet operations, theme dinners, outdoor catering, creative menus, buffet set-up, Chef Kunal's credentials are seen in numerous awards and medals he has achieved in a career spanning more than a decade.
He has an in-depth understanding of North-West Frontier, Punjabi, Awadhi, Dakshin, Italian, European and Goan cuisines and super specialisation in Indian Curries and Kebabs.  Chef Kunal who is quoted as…. `Rightly dubbed master of what he does', is passionate about two things – Food & Travel.