Chef Davinder Kumar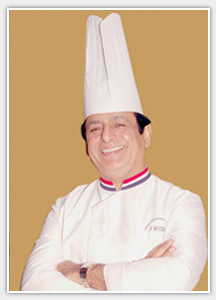 A connoisseur in the fine art of cooking to the gourmet's delight, Davinder Kumar has been in this profession for more than three decades. A graduate from Delhi University, he started his career in 1972 with the Oberoi Group of Hotels. After completing a three-year diploma course in Kitchen Management, he was sponsored by the Oberoi Group to go to the Lychee Technique de Hotelier in Paris, where he worked with select chefs and specialized in French Cuisine. He has traveled extensively across the globe in a bid to master the intricacies of different cuisines. Over the years he has been accorded with many awards for his excellence in culinary art & contribution to the industry.
He was the sole Indian representative in the International Cooking Festival held in Tokyo, Japan, in 1983 and was awarded a medal for his presentation of Indian cuisine. In 1985, he joined Hotel Le Meridien, New Delhi, as Executive Chef and is currently working as the Hotel's Vice President (F&B Production) & Executive Chef.
During his long-drawn career, he has excelled in kitchen planning, staff recruitment and execution of menus and unique recipes. He strongly believes in sharing his knowledge and skills, enhancing the awareness of the Indian cuisine and improving the image of Indian chefs worldwide. He has trained a number of chefs and professionals who are holding top position in India and abroad.
He feels: food to me is more than taste, it is an amalgamation of pleasant aroma, flavours and eye appeal.
Acknowledged a celebrity chef who has made tremendous contribution in promoting Indian cuisine globally his first book KEBAB-CHUTNEY & BREAD has been well received. He has been hosting the famous cookery show "Kebab Corner" on ETC Channel Punjabi.
He has been conferred the National Tourism Award for Best Chef of India by Ministry of Tourism.
He has authored his second cookery book "Just Kebabs", Celebration of 365 kebabs & one for a leap year.
Chef Davinder Kumar is the President of Indian Culinary Forum, North India.
.
[/vc_column_text]